Park Monitoring
Parks are very important urban habitat for many native species. They can provide large areas of vegetation of often complex structure (both small plants and large with everything in between) that is watered regularly. Having a park or wash in your neighborhood will often help your chances of encouraging birds to use your yard as additional habitat to meet all their needs in their life cycle. The Park Monitoring aspect of the Tucson Bird Count is a very important data source and these counts are also lots of fun.
Parks that are a part of the Tucson Bird Count study are monitored 4 mornings a year from pre-established point count locations or in some cases transects. There are parks available that need bird surveyors or if you have a park or wash that you are interested in surveying we could look into setting up a new count site for you to monitor.
See the
Park Monitoring Instructions
for more details.
Below is a map of the parks that are monitored for the Tucson Bird Count.
The following parks are available for adoption by a volunteer bird surveyor.
Current Park Sites: Sites currently being monitored are shown on the map below (Click on map for larger version).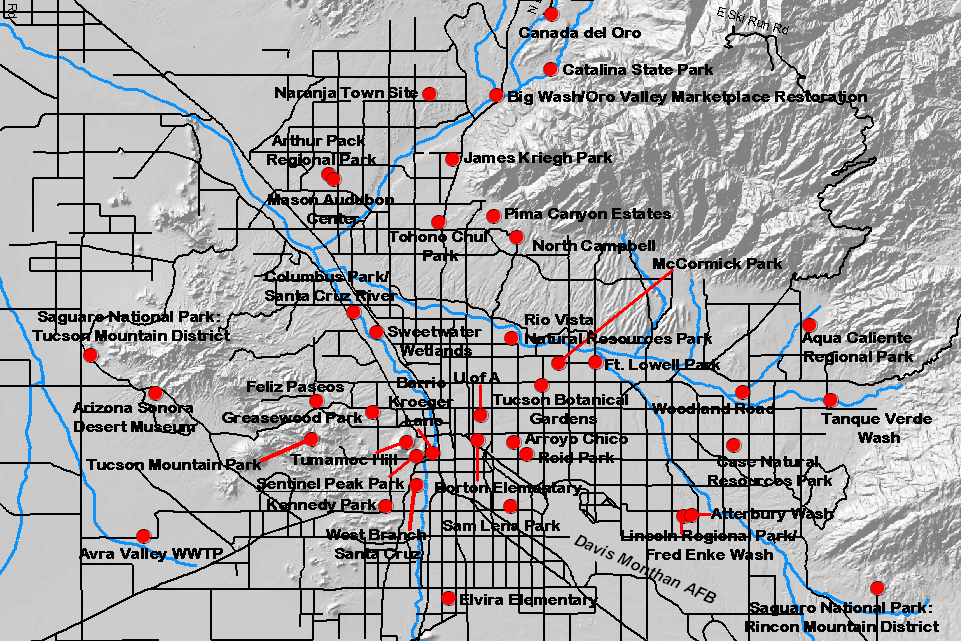 Dates:Parks are visited one morning during each of the following 4 periods:
| | |
| --- | --- |
| Winter | Jan 15 - Feb 15 |
| Spring Migration/Breeding | Apr 15 - May 15 |
| Late Breeding | Jul 1 - Jul 31 |
| Fall Migration | Sep 1 - Sep 30 |
Requirements: a link to a new TBC data sheet can be found at http://www.tucsonaudubon.org/what-we-do/birding/tbc.html.
Group Leader Responsibilites:
Handle registration with TBC, park adoption, coordination of group members at survey time, and data entry.
Should only adopt areas that they can continue to monitor in future years.
Must meet the TBC qualifications outlined in the Self-Test.

Other Group Member Responsiblities:
Only those conducting point counts must meet the TBC qualifications outlined in the Self-Test.
Those conducting point counts should also be able to monitor in future years.
Current Group Leaders
Note: Parks that are available for adoption are marked with a star (

).
Park/Monitoring Area
Group Leader
Agua Caliente Park
Mary Klinkel
Arizona-Sonora Desert Museum
Norma Miller
Arroyo Chico Wash
Shirley Kurc
Arthur Pack Regional Park
Diana Videtti
Atturbury Wash
Matt Griffiths
Avra Valley Wastewater Treatment Plant
John Higgins
Barrio Kroeger Lane Neighborhood
Kendall Kroesen
Big Wash/Oro Valley Marketplace Restoration Area
John Schuering
Borton Environmental Learning Lab/Borton Elementary
The Quail Room
Canada del Oro Wash (north of Tangerine)
Carla Danforth
Case Natural Resources Park

leader needed

Catalina State Park
Bob Bowers
Columbus Park / Santa Cruz River
Kendall Kroesen
Davis Monthan Air Force Base
Mike Sotak
Elvira Elementary School
Kelley Brooks
Fred Enke Wash / Lincoln Regional Park
Bruce Prior
Ft. Lowell Park
Mark and Farrish Sharon
Greasewood Park
Gay Gilbert
James Kriegh Park
John Scheuring
Kennedy Park
John Higgins
Kino Ecosystem Restoration Project / Sam Lena Park
Brett and Peggy Wilmore
Mason Audubon Center
Craig Marken
McCormick Park
Mark Stevenson
Naranja Town Site
John Scheuring
North Campbell Neighborhood
Michael Smith
Pima Canyon Estates
Lud Deppisch
Reid Park
Carla Danforth
Rio Vista Natural Resources Park
Trica Oshant Hawkins
Saguaro National Park: Rincon Mountain District
Larry Norris
Saguaro National Park: Tucson Mountain District
Ethan Beasley
Sentinel Peak Park ("A" Mountain)
John Higgins
Sweetwater Wetlands
Andrew Core
Tanque Verde Wash
leader needed
Tohono Chul Park
Jim Hays

Tucson Botanical Gardens

Nora Miller
Tucson Mountain Park
Susan Birky
Tumamoc Hill
Bruce Prior
University of Arizona Campus
Jenise Porter
West Branch Santa Cruz
Susan Randolph
Willow Springs (Pinal County)
Bob Bowers
Woodland Rd. area
Brian Nicholas
New Routes
Mount Lemmon

leader needed

Canada del Oro (south of Tangerine)

leader needed

Cortaro Bosque

leader needed

Other sites of interest

leader needed
---