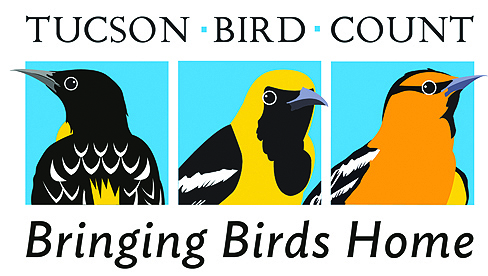 Interested in participating?
Bird Count 2015 routes are available now!
Newest Routes
Welcome to the Tucson Bird Count!
Where Birds Thrive, People Prosper
The Tucson Bird Count is dedicated to making Tucson a better place for birds and for all of us
The Tucson Bird Count aims to help people make informed decisions regarding the impacts of human actions on wildlife. Urbanization is a movement that is well established and will continue to grow in the future and one way to reconcile that loss of habitat is to endeavor to share our urban space with native birds and wildlife. Through informed decisions we can all help Tucson sustain a diverse bird community which is good for the birds and also enhances the quality of life for Tucson's human inhabitants.
The Tucson Bird Count is a citizen-science driven effort that has documented how native birds use the habitat within and surrounding Tucson for over a decade. The information gained through this study has allowed informed recommendations on what Tucsonans can do within their yards, neighborhoods and communities to make Tucson a better place for birds. As Tucsonans make changes and efforts to share their city space with native birds, the count effort itself will document how birds respond to all of our efforts to provide habitat for native birds right within our own habitat.
Whether you are helping with the volunteer annual bird counting efforts or enhancing your urban habitat for the benefit of native birds, you are helping make Tucson a better place for birds and for all of us. Thank you.
---